Mental Well-Being of Security Professionals
Thu, Feb 23, 2023, 4:30 pm-6:30 pm EST
📍 Ottawa Police Association
ottawapa.ca
141 Catherine St, Ottawa, ON K2P 1C3
Parking: Street parking in the vicinity and public transportation available
Business Update and Presentation: 5:00-5:40
Join us on Thursday, February 23rd, 4:30 pm – 6:30 pm for a dinner event on Protecting the Mental Well-being of Security Professionals with guest speaker Ken McCarthy, President, Integrity by McCarthy Inc.
We will hear from Ken McCarthy about compassion fatigue and vicarious trauma during the event. These concepts come from the cost of caring for others and from secondary exposure to other people's trauma.  Ken recently experienced both of these in his workplace investigations business. This happened after the suicide of one of the people he interviewed, combined with a period of particularly heavy interviews with people who had experienced serious trauma from workplace harassment and psychological violence.
Ken is opening this conversation with his fellow chapter members to share the warning signs, triggers, symptoms, coping and recovery strategies, which will all be useful to those of us who work in the security field. The presentation will be followed by a Q & A session.
A buffet-style meal and beverages will be served, and a cash bar will be available for those interested.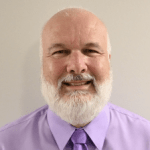 Ken is a former executive from the Canada Border Services Agency, where during the final 10 years of his career, he led a workplace investigations program for a workforce of over 15,000 employees. He provided executive oversight in more than 500 workplace investigations and has designed and delivered investigation training sessions to over 500 front-line managers.
Ken has seen the devastating consequences of workplace harassment, violence, and fraud on individuals and organizations, from issues related to mental health, absenteeism, and presenteeism; to organizational reputation damage and financial losses. He set out to make a difference by founding Integrity By McCarthy Inc.
Ken is also a member of the investigation unit for the Office of the Sport Integrity Commissioner of Canada under the Abuse Free Sports program, which aims to eliminate maltreatment in sports in all Canadian federally funded sports organizations, from grassroots to high-performance levels.
Credit Information
Completion of this webinar is eligible for one CPE credit.
Registration
We ask that you register and drop by on your own schedule to assist organizers!
After registering, you will receive a confirmation email containing information about joining the meeting.
For any technical questions, you can contact Vice.Chairperson@ASISChapter140.org.