2022 Annual General Meeting & Elections
Nov 23, 2022 – Chateau Laurier
On behalf of the ASIS Ottawa Chapter, we want to thank everyone who attended the Annual General Meeting and 35th Anniversary Celebration at the beautiful Fairmont Chateau Laurier. What a fantastic event with lots of great discussion around professionalization.
It was fantastic to hear from our keynote speakers, Victor M. and Lina Tsakiris CPP, ITPM, on Insider Risk Management, Value and Victories.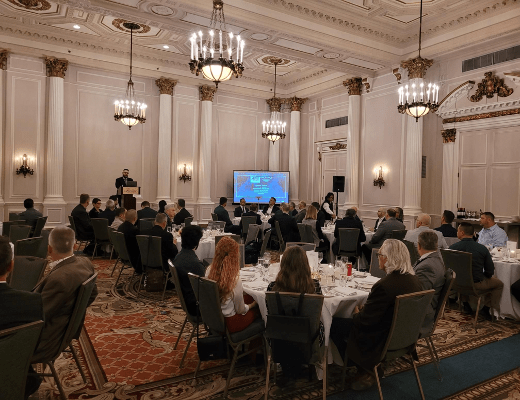 We would like to introduce you to the Chapter Executive elected for 2023 and our Committees
Chair
Dan Corriveau, CPP, PSP
Vice-Chair
Cory Oliveira, CPP, PSP
Treasurer
Mathieu Leduc, CPP, PSP
Secretary
Mark Bottomley, CPP, PSP
Program Chair
Raphael Duguay, CPP, PSP
Women in Security Liaison
Nicole Ouellette, CPP
Women in Security Committee Members
Jenna Rolfe, Juliana Rapper
NextGen Liaison
Luis Morales Martinez
NextGen Committee Members
Kyle Burrows, Aaron Ramhit
Certification Chair
Allan Chabot, CPP
Certification Co-Chair
Shaun Brabazon, CPP
Certification Committee Members
Eduardo De Diego, PSP, Andre St-Pierre, CPP, David Black CPP,  Jason Renaud, CPP, Jacques Gagne, CPP, PSP, Gaby Khoury, CPP, Raphaël Duguay, PSP, CPP
Education Chair
Greg Losier, CPP
Education Committee Members
Dane Rowlands, John Dallas, Maj (Ret'd) Graham Newbold, James Clemens, Johanne Sirois, Costanza Musu, Juliana Rapper, Phil Gurski, Sophie Jenkins
Sergeant at Arms/Law Enforcement Liaison
Allan Burns, PCI
On behalf of the chapter, we thank our volunteers for their service. We are grateful for the investment you have made in the security community.
This next year as a chapter, we will continue to focus on member, volunteer, and youth engagement, collaboration within our community, education and certification, and events. We are excited to plan for 2023 and look forward to another successful year.
Please join us in welcoming our 2023 team!